Warehouse Initial Setup Process

In this article we are going to take a look at the essentials required to get you started with your new Warehouse module!

Initially we need a firm understanding of your standard warehouse processes, procedures and overall workflows to understand how best to apply TransVirtual's WMS.

After deciding on the best way to apply this WMS to your business you will want to proceed with the following:

- Warehouse Locations

- Warehouse Zones

- Warehouse Bin Types

- Warehouse Bin Locations

- Stock Items

- Import Initial Stock Levels
Once you have setup these six cornerstones of the TransVirtual WMS up in your TransVirtual account, it will be easy to extend and manipulate the WMS to fit your business structure.

Warehouse Locations

Warehouse locations are the base of your WMS setup, these warehouses can work together in your account, you can setup just the one or you can setup multiple if you have different warehouses in different locations.

To setup your locations go to Warehouse > Configuration > Warehouse Locations, which will take you to a page that looks like this:

You can select the "Create Warehouse" button which then brings a pop up for you to name your new warehouse.

Once the warehouse has been created you have the ability to adjust some settings over on the right.

Link to headport: provides you the ability to set your warehouse in a headport, this would be best used if you have multiple warehouses set in different locations, for example Newcastle Warehouse and a Sydney Warehouse.

Default Bin Type: This will initially be a standard bin as you haven't setup your bin types yet, however the use of this will be your default bin type, this could be a pallet, small container, box etc. realistically you will want your default bin to be the most common in your warehouse.

Assign All Picks To: This will grant you the ability to assign all of your picks by default, you can use this to assign to your staff members or pickers by default which may be a better feature for smaller businesses.

Once you have setup your warehouse, you then move onto your warehouse zones, which is accessible via the Orange button there which states "View Warehouse Zone Setup".

Warehouse Zones

Warehouse zones are used to define which areas of a warehouse service certain functionality.

An example layout of a warehouse with zoning would look like this: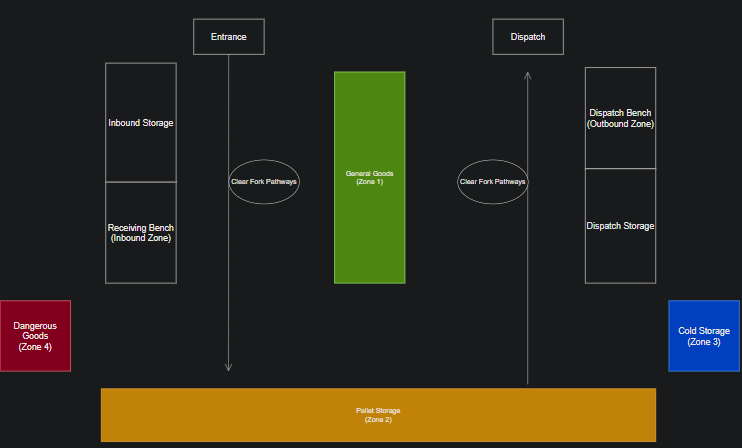 TransVirtual has made zoning simple and easy to implement, there are two ways to access your zones, via the warehouse list or you can go to Warehouse > Configuration and Setup > Warehouse Zones/Bin Locations.

When in the page you will be presented with a similar format found through TransVirtual, you can "Add New Zone" and your list will display on the left, you can also adjust each zones individual settings on the right: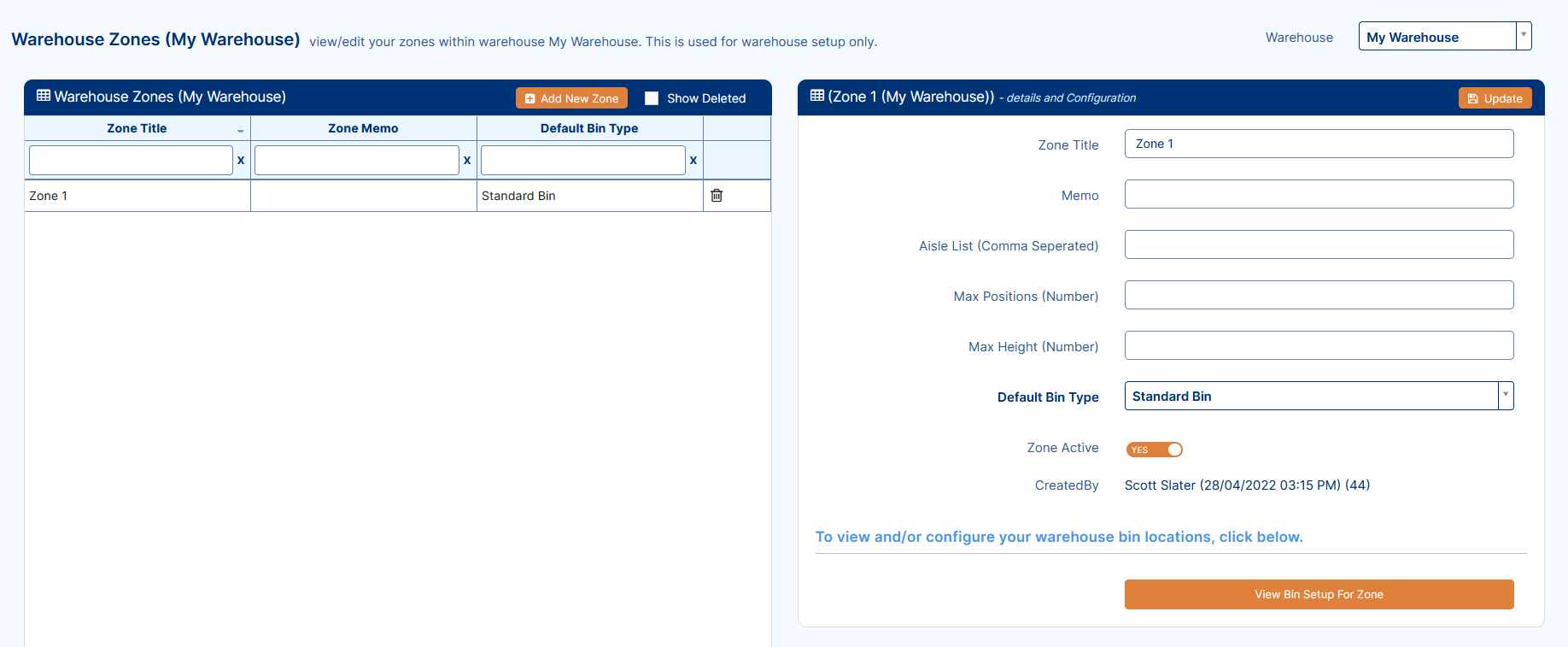 The zone title is suggested to have the subtle description included, so if you are setting up a cold storage zone, call it "Cold Storage".

Memo: Here you just add a brief description of your zone, you can even enter in warnings such as "Only stores items below 10 degrees".
Default Type: This will initially be the standard bin type you have set for your warehouse, you can change this when you have setup your different bin types.


Please note the top right corner will have the option to select the warehouse you are adjusting zones for, this is recurring in some main pages.

We will divert to Bin Types so we can utilise the feature better as we progress with our setup and then comeback to our Bin Locations.
Bin Types

Bin types are extremely useful in TransVirtual's WMS, this helps us identify what the goods are stored in and you can completely customise this if you need to.

So to get to your bin types you can go to Warehouse > Configuration and Setup > Warehouse Bin Types.

This will then take you to a page which again shows the ability to Create a bin on the left and adjust the settings on the right:


Your bin title can be anything you want it to be, however it is best to describe your Bins as definitively as possible to avoid any confusion.

You can enter in the Max weight, volume, qty as well as the LxWxH of the defined bins.

Now lets go back our Zones (Warehouse > Configuration and Setup > Warehouse Zones/Bin Locations > View Bin Setup For Zone).

Warehouse Bin Locations (Within Zones)
We will now be presented with our bin locations page, we have our Warehouse, our Zones within the warehouse and our bin types, now we are going to dig deeper and enter the location of each bin.

To enter bin locations, you can either enter them manually or bulk import.

Manual Entry of Bin Locations
Manual entry is what makes systems like our WMS so easy to customise, to do this, simply select "Add New Bin" on the left, you then enter your Bin Title and create.

You can then add in your settings for the individual bin such as:

Bin Aisle: What Aisle is the bin within your warehouse? TS01

Bin Position: Bin position within the warehouse. AA

Bin Height: The height of the bin. 02

Bin Type: Type of bin, as we discussed previously you now have your bin types setup.

Bin Memo: Enter in any notes you want surround this bin such as a warning or advisory message.

Bin Code: Bin codes are usually made up of a combination of the above, for example our bin code would be: TS01AA02

Bin Is Inbound Location: This would usually be used for your receiving bins, so if you have a storage location for stock that needs to be processed, it can sit in here.

Bin Is Outbound Location: This is the reverse of the above, this will be your dispatch location and you can use this location to store stock that is leaving your warehouse.

Charge Mixed Stock Items: This can be charged to have mixed stock items within the bin location, this is an additional step that will allow your charging to charge using this bin for multiple stock items.

Bulk Import

This would usually be the best way to start your bin location list, to import bins you will need:

- A CSV file

- Each column contains the next bulk lot of information E.g Column A: Bin Title, Column B: Bin Aisle, Column C: Bin Position


Then you can simply select to "Import Bins" and map accordingly as you can see here: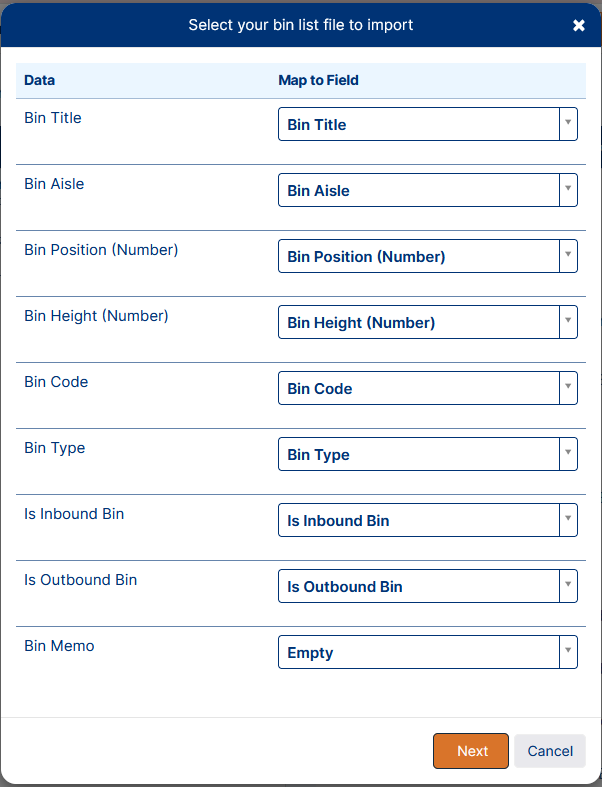 Select "next" and the file will then be imported.

Print Labels

You can print labels for your bin locations by selecting "Print Labels".

These labels can be adjusted to have required information on them other than bin title as long as the information is relevant E.g Bin Memo
Warehouse Stock Items

Go to Warehouse > Configuration and Setup > Stock Items and you will see a new page that is a little different to the ones above.

Your Stock Items page is what stores everything you need in relation to any item in your Warehouse, to begin you will want to import your stock items, similar to the bin imports above.

You will need a CSV file that defines your stock by columns at minimum you will need a Stock Name (Title) and Stock Code (SKU).

You then need to map your file in and import.

Note that you are not importing quantities, you are just importing the items.

If you manually add a stock item, you can see a little bit of what is available, you have:

Stock Name: The title of your stock

Description: Describe your stock to make it easier to identify if P/N's get rubbed off.

Stock Code: Enter your SKU or P/N to identify your item.

Limit to Customer: This item is only available for a specific customer? that's fine, you can limit it here.

Brand: What brand of item is it? Is this item an in house brand, an external brand, or brandless?

Year of Manufacture: You can enter the year of manufacture to monitor time periods of items better.

Now once items are created you be able to see more in depth information on the right hand side: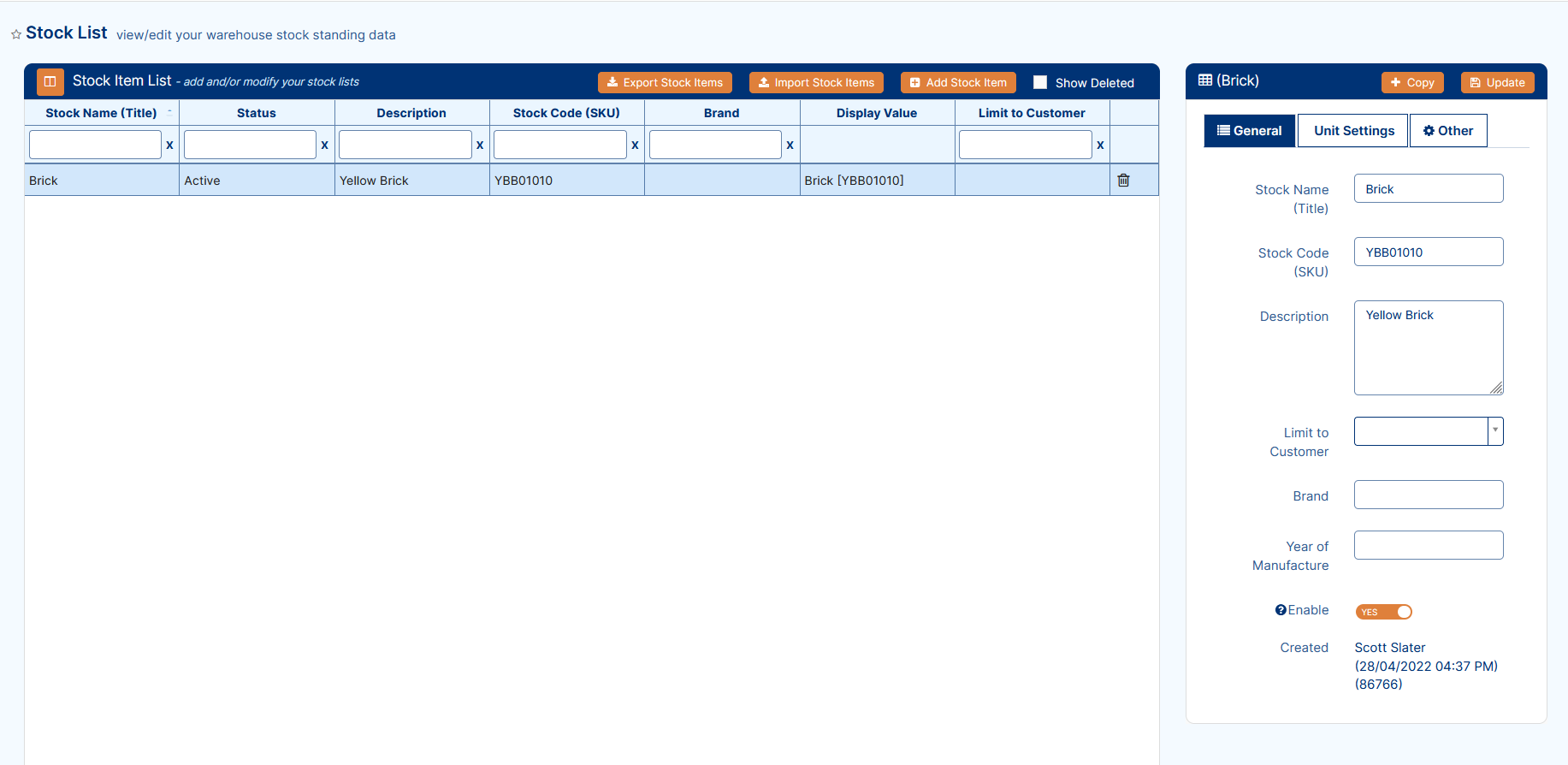 You can see your initial information entered which can be imported also, you can also enable/disable the item and even adjust further settings.
Unit Settings

Unit settings allow you to define the unit or item more, if there is one thing you will notice within this WMS, it is that almost everything has layers.

You start with a Unit, which is our title for one individual item such as a bottle, this then expands to have a pack, then a case, the best way to describe units is:

Unit = Bottle

Pack = 6 pack of cola bottles

Case = 4 x 6 packs of cola bottles

So now we have defined our terminology you will be able to adjust this to your liking: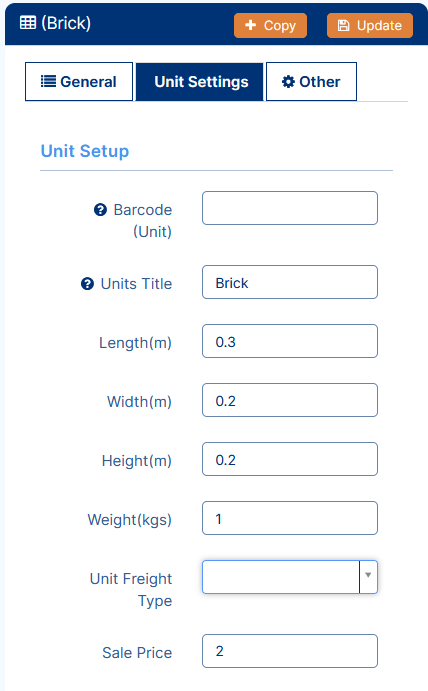 Other Settings

You can also enter in an alternate code to help further identify an item, classify it as Dangerous Goods, Pick your bin sequence, provide further Unique ID, determine your bin spaces and your charging bin spaces, we will go into these settings further in detail with videos and other documentation.

You then can also drop down the "Suppliers" tab to assign agents to your specific item also.


Note that you can select "+Copy" to copy the individual stock item for easier adjustment.

Import initial stock levels

Now that we have all of the above setup, it is time to import our initial stock levels and get the system moving everything around for us.

Go to Warehouse > Administration > Inventory Activities > By Stock Item (Top Right Corner Selection)

Again you will need a large CSV file containing all of your stock items that you have already imported, alongside the below information:

Stock Name (Title)

Stock Code (SKU)

Stock Unique Identifier

Bin Title

Quantity In Bin

Quantity UOM (Unit,Pack,Case,Bin)

As per the below image on test import: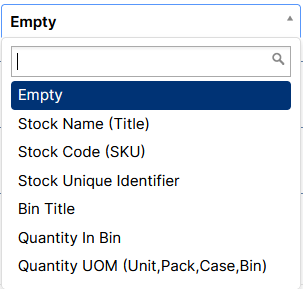 This is to import your initial stock so ensure you enter as much information as you can and ensure everything is accurate by spot checking after import.

Conclusion

You have now completely setup the corner stones of your WMS, remember that the more information you have, the better off you will be, this system is designed to hold all of your overloading complex data and turn it into something simple that you can manipulate, for more in depth reviews on other features, please see our other articles and documentation.